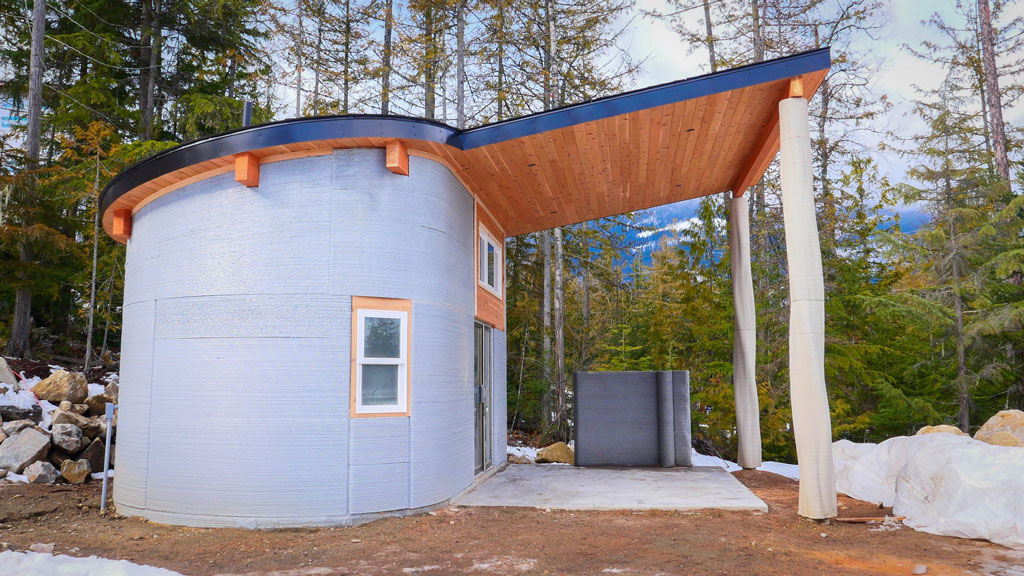 3D construction becomes a reality in British Columbia
3D printing of homes, utility buildings and construction is becoming a reality in the BC construction industry with field projects and printers and educational institutes focusing on new materials.
"Over the next 10 years, 3D printers will be as common on construction sites as excavators," predicts Ian Comishin, president and co-founder of Twente Additive Manufacturing (TAM), with Canadian offices in Nelson, British Columbia. , where the first 3D concrete house was built in 2020.
Eighteen months ago, TAM sold a 3D printer to Salt Spring Island-based retired professional engineer Jon Scott, whose company StrongPrint3DConstruction Inc. does contract construction work. His latest 3D project is a farm stand, followed by a bus shelter.
Flood-ravaged Merritt is now poised to become BC's largest 3D residential project as a feasibility study is underway to put 20 homes on site for displaced residents.
"We still have people living in hotels," housing director Andrew Nielsen said.
3D construction is part of a technology field called additive manufacturing with institutions such as the University of British Columbia (UBC) and Selkirk College performing R&D.
The process uses computer-aided design (CAD) data or 3D object scanners to direct material which deposits layer upon layer of material into designated shapes. The research focuses on the use of different materials such as concrete, wood waste and plastics.
Nielsen said Merritt's feasibility study is looking at design and cost with options on single-story 640- to 1,000-square-foot units or a complex of shared-wall units. The proposal is a joint research project with UBC's Okanagan campus which has its own 3D printer. A successful study in late June could see construction begin later in 2022 or early 2023.
"It seems like a good thing to try," Merritt Mayor Linda Brown said, as getting residents home is essential. The city received $24 million in flood relief, including $11 million targeted for housing.
The concrete mix used in 3D construction is expensive, but there is a tradeoff. In addition to being a shared benefit of UBC's research, 3D fills some labor shortages.
"We only have local traders here," Nielsen said.
Printers print the exterior walls and traditional carpentry, electricity, heating and plumbing are still required. Not all printers are created equal, and it is the medium and large scale printers that are used for homes and other buildings.
Merritt's proposal would use a Tilikum printer, a mid-size unit produced by TAM at its Quebec manufacturing plant. The Tilikum can be moved from site to site by truck and can also be driven along a site. When he builds a structure, he stands in the center of the building and an arm, which can reach 10 feet, builds the walls around it.
"It's really only the three-and-a-half-wall construction," Comishin said, because that last part (about the size of sliding glass doors) is the Tilikum's exit point.
In contrast, Scott's printer is called an Intrepid and was built by TAM with Scott's modifications. It is a gantry type printer that uses four corner towers connected by beams and the gantry bar running along two of the cross beams. The bar delivery arm has a hanging nozzle that places the material.
"The whole thing can be taken apart and moved onto a five-ton truck," said Scott, whose truck uses a 22-foot-long box.
"You can take it and set it up anywhere," he said, adding that he can print the exterior walls of a 400 square foot house with a loft for sleeping.
Scott said he didn't attempt to build a house at this point because he was working with a concrete company to cut the cost of the mix.
"If you go to Home Depot and get the cheapest concrete, it's about 25 cents a pound and the mix is ​​about $1 a pound," he said.
The cost is related to the content of the additive mixture to ensure rapid setting and hardening of the lower layers before adding a new layer.
Comishin said the higher cost is actually the cost of producing the specialized dry mix. "Companies that invest in high-tech measuring and dosing systems to manufacture the dry mixes are so far the only ones producing good printing material. If, however, we only use 40% of the concrete that one would normally use and remove the need for formwork, the costs are actually quite similar.
Hybrid 3D construction is also making an appearance. In 2020, Comishin built the 376 square foot Fibonacci House in Procter, which is shaped like a semicircle with wooden trusses used to form a wooden roof and cover a sheltered area.
The project involved using the printer to form sections of the house off-site with conventional concrete to save costs, then trucking and craned the sections up to the column. He describes it as similar to a post and beam style of construction.
On Salt Spring Island, Scott's 200-square-foot farm booth job eliminates the need for carpenters and concrete casters. Scott prints the footings, adds rebar to the footings which will then be filled with regular concrete, and prints the walls, including four pilasters, which will be filled with rebar and regular concrete. The interior finish as well as the roof and doors will be completed by the customer.
Comishin said another major upcoming project is World Housing's Sakura Place, five homes near Nelson for single mothers or women transitioning from hazardous living conditions. The project is a pilot project for World Housing, which hopes to use the concept internationally and is currently fundraising.
"Our machines also cross the border," Comishin said, as a printer starts a project in New Hampshire this summer and TAM has signed up to supply a machine to a construction site in Montana. "All are for housing-related projects."
Scott and Comishin agree that one of the benefits of 3D printing is with architectural structures or components because the printer can easily create curves, waves, or features that are difficult to shape or frame. Utility sheds were also printed on location. Likewise, items like a fish ladder where the terrain and design can be varied and difficult to form. Intricately patterned stairs are also possible.
Internationally, the concept of 3D housing has evolved much faster, as TAM's Dutch office responds to European demands. Japan is also an early adaptor, embracing smaller sphere-like houses.
"Our client in Japan is part of a consortium of 107 companies planning to use 3D printing to develop low-cost housing and safe isolation spaces," said Comishin, who was interviewed while he was delivering a Tilikum, the second of the client's 10 machines, to Japan. "They are eager to build 5,000 single room spheres almost immediately."
Nielsen said the United Arab Emirates, Dubai, has also been pushing 3D construction. The Prime Minister has launched an initiative that a quarter of new construction in Dubai will be 3D by 2030 to increase productivity and reduce waste.