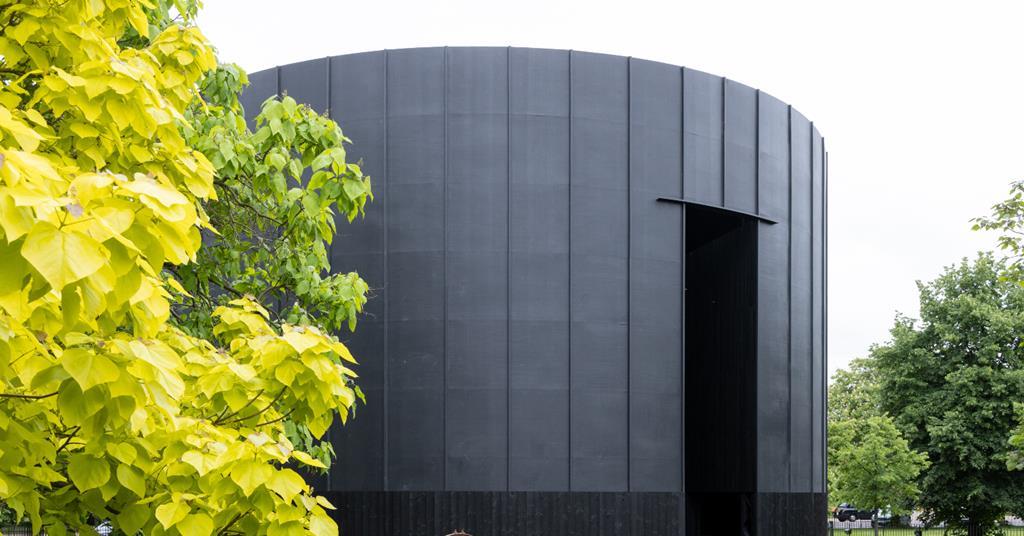 Aecom Releases Time-Lapse Film of Serpentine Pavilion Under Construction | New
Aecom has released a sped up film to celebrate the recent opening of the Black Chapel pavilion at Theaster Gates.
The consultancy firm has been closely associated with the gallery over the past decade, and this is the ninth pavilion on which they have acted as technical advisers.
Madalina Taylor, Senior Engineer at Aecom, said, "The pavilion looks very simple from the outside, but looks can be deceiving. The use of lightweight wood technology on this scale has required careful analysis, research, mock-ups and physical testing to ensure that it works both in the Serpentine Galleries and in its future life. With the aim of making the pavilion fully demountable, we have created an ultra-low carbon structure that will host a diverse and exciting program of summer events.
The Black Chapel was designed by Theaster Gates, with specialist architectural input from Adjaye Associates. Aecom provided engineering and project management support.
The project takes inspiration not only from the traditional chapels, but also from the bottle kilns that characterize the Stoke-on-Trent skyline. The circular space and internal volume are intended to provide a gathering place and a sense of protection.
>> To read also: Theaster Gates: value engineering has made the Serpentine Pavilion more interesting
The pavilion is 10m high, making it one of the tallest ever built on the site. The materials were chosen based on their low carbon impact and their ability to be reused and recycled. The structure has been extensively computer modeled to minimize the amount of material required.
The superstructure is wooden and rests under a spoked wheel roof, centered on an oculus open to the elements.
Exposed wood structural design is a more common type in residential floor construction. For Black Chapel, this construction method was modified using MiTek posi-joists and a stressed plywood skin which allows the structure to be very light and minimizes the need for foundations. Details are simple and repetitive, helping to speed up construction and reduce costs.
The structure is modular and much of it was pre-fabricated at contractor Stage One's facility in York. Using standard sized panels reduced waste, while offcuts were chipped and used in Stage One's own on-site biomass system to generate power.
The Black Chapel can be easily disassembled and reassembled at another location at a later date.
The entire project has been audited by the Grace Farms Foundationswho worked with the project team and the client to ensure the structure was sourced ethically and sustainably.
This is the 21st year of the Serpentine Pavilion series. The very first pavilion was designed by Zaha Hadid and opened in 2000.