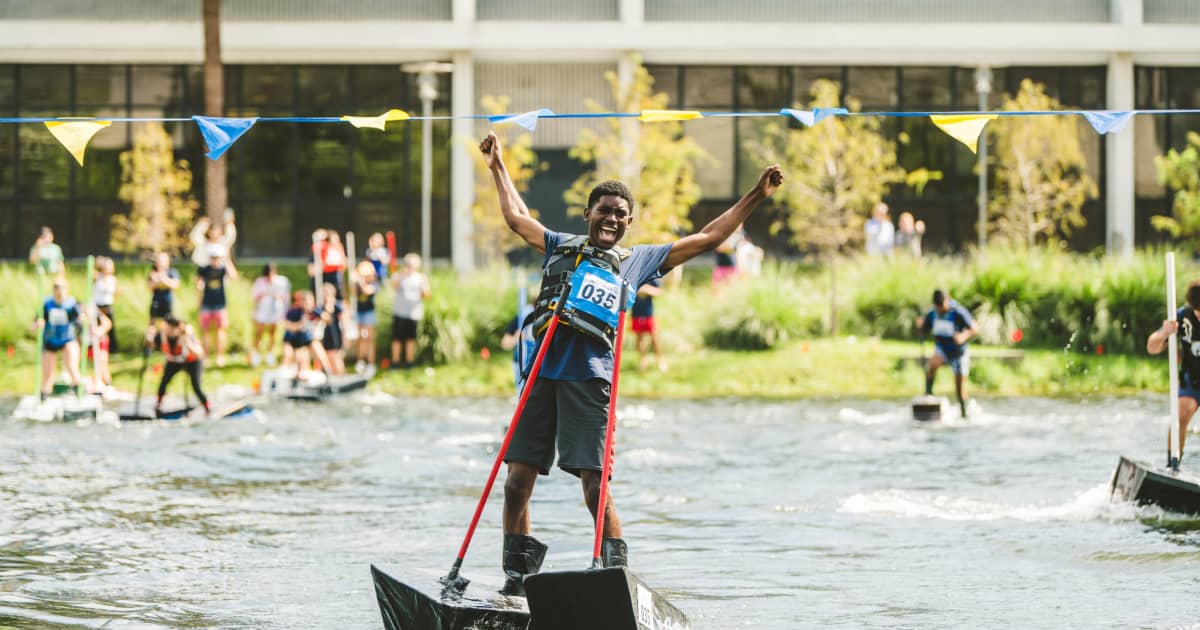 Architecture Team Breaks Record at 33rd Annual Water Walk | FIU News
"After walking on water, what can you be afraid of?" said Professor Jaime Canaves.
Since 1989, architecture students from the Methods and Materials course at Canaves have gathered around the lake behind the Green Library to put their learnings into practice for what has now become a CRF tradition – Walk on water. The contest involves designing and building floating shoes that can be used to "walk" on the lake, a distance of approximately 350 feet.
This year, 51 student teams from no. 16 nationally School of Architecture showcased their athleticism, creativity and design skills at the big event. In preparation, the students trained day and night by the lake, all in the hope of crossing the finish line to get an "A" on their project, but also the possibility of a cash prize of $1,000 for finishing first. Additionally, if the student manages to exceed the record time, they receive an additional prize of $1,000.
Under their Looney Tunes-inspired team name, "Road Runners," sophomore architecture students Andre Morgan and Jorge Tabla were the 2022 champions. They raced across the lake to finish in 44.71 seconds – beating the record that was only set last year of 51.5 seconds.
"We practiced a lot and practice makes perfect," Morgan said. "It's a step closer to my goals. I want to become an architect and hopefully open my own practice.
Students do not need to design shoes or enter the lake to participate in Walk on Water. First-year students of the school's character drawing course sit on the shore of the lake to draw landscapes during the event. Next year they will have the opportunity to compete in the tradition.
"It was really fun to be here to see what we were going to do next year," said architectural specialist Brian Rodriguez. "It was a great experience having to draw everything. I enjoyed watching people move [across the water]."
This year's Walk on the Water also kicked off The school of architecture all year round 25th anniversary celebrations.