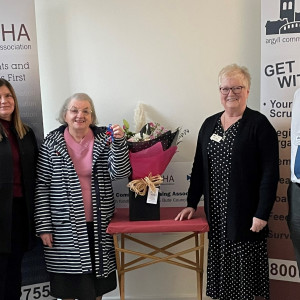 Argyll Community Housing Association completes dementia-friendly homes in Campbeltown
Argyll Community Housing Association has completed the conversion of the former Grade C listed Millknowe Stores and the flat above into a dementia friendly 2 x 2 bedroom, the first of its kind in Campbeltown.
The Millknowe store was acquired by the Association in April 2019, allowing the properties to be converted to meet housing needs in the area.
Each apartment has been carefully designed by the architects, Inch Architecture, in consultation with colleagues from Argyll and Bute Council and the Argyll Health and Social Care Partnership to make the apartments suitable for tenants with an early diagnosis of dementia or tenants with sensory issues. The ground floor apartment is also fully wheelchair accessible.
---
---
The new homes which have been completed by Campbeltown-based contractor, McKinven & Colville Ltd, have additional design features to support people with early onset dementia, such as floor finishes that visually contrast with wall finishes; additional low level lighting; open kitchen storage; and good visual links between the main spaces. The fixtures are both easy to use and traditional in appearance for easy recognition.
The properties have also been upgraded to EESSH2 standard to help tackle energy poverty with additional levels of insulation, energy efficient windows and doors and are heated by air-source heat pumps.
Cathy Grant, Chair of the ACHA Board of Directors, said: "We are really excited to complete these dementia-friendly homes which have the potential to positively impact the lives of the people who live there. . Feedback from tenants and their families on the dementia-friendly apartments has been very positive and we would like to thank Argyll and Bute Council and the Scottish Government for all their help and support in developing this accommodation.
The project was jointly funded by the ACHA, Argyll & Bute Council's Strategic Housing Fund (SHF) and the Scottish Government's Affordable Housing Supply Program (AHSP) grant.
---