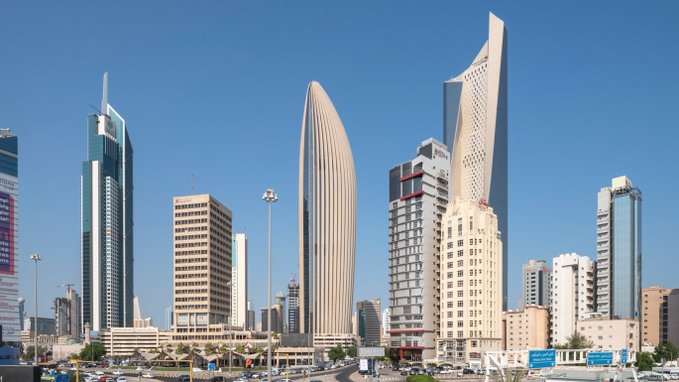 Completion of the construction of the new headquarters of the National Bank of Kuwait
The construction of the new headquarters of the National Bank of Kuwait was finalized by Foster + Partners. The 300-meter skyscraper with a distinctive presence is among the buildings in Sharq, the expanding financial district of Kuwait City.
By bringing together all the bank's corporate employees under one roof, the new tower promotes synergy and the well-being of employees. The layout combines green elements with structural innovation. Thus, he creates an energy-efficient passive architecture that protects the offices from the climatic extremes of Kuwait.
Overview of the design of the new headquarters of the National Bank of Kuwait
Look for construction leads
Wider floor plates with panoramic views of the surroundings are created at the top of the tower by its distinctive silhouette. The Sky Halls, which serve as staff staging areas and meeting spaces, are located on all sixty-three floors. Visitors and staff are welcomed inside the building by an 18 meter high hall at the foot of the tower. A double-height restaurant is located on the 18th floor and a modern gym is on the 19th floor.
Additionally, a special ballroom and auditorium are located on the 38th floor. Therefore, all of them offer panoramic views of the city and the bay. These common areas are accompanied by the President's Club in the soaring massing at the top of the tower. In addition, they are illuminated by a single skylight that traces an arc in space.
Also Read: Contract Awarded for Malaysia-Singapore Rapid Transit System Link Project
Learn about the new headquarters building of the National Bank of Kuwait
The expansive views of the Arabian Gulf can be seen through the curved facade of the new headquarters of the National Bank of Kuwait on its northern side. For structural support and shading, a series of concrete fins are embedded along the path of the sun. They cover the entire height of the tower. Floor plates taper inward toward the base to maximize floor space on upper floors, and overhanging floor plates above desks below provide automatic shading. Energy consumption is reduced, indoor air quality is improved and water consumption is reduced through passive and active measures.
Advanced double-lift technique reduces core size to increase net usable floor plate area. The interiors of the project have also been furnished with custom lighting and furniture. The firm's industrial design team created the hall's distinctive and tasteful blown glass pendant lights. They are arranged in a cluster above a royal table of 13 meters.
If you have a comment or more information about this article, please let us know in the comments section below.