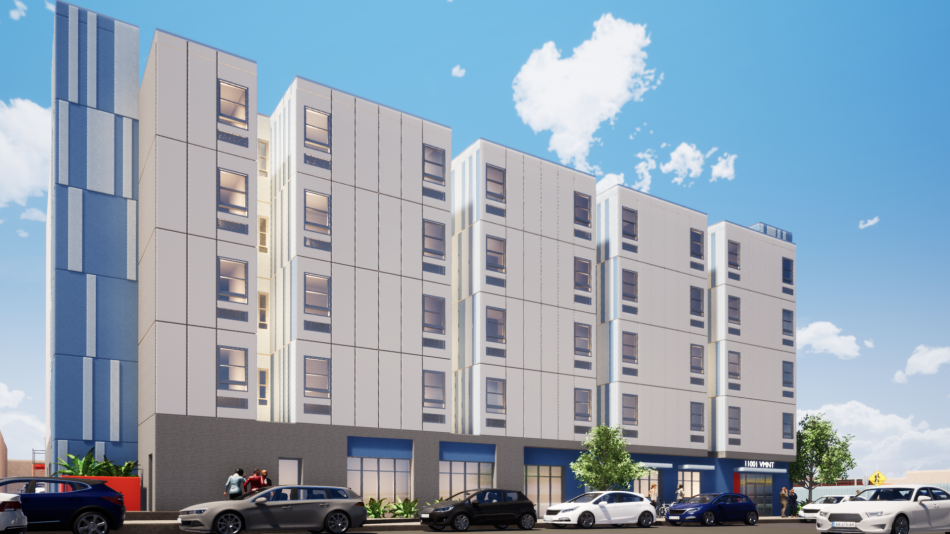 Construction begins on the SoLa Vermont apartment complex in Los Angeles
The construction of the SoLa Vermont apartment complex, the last mixed-income apartment complex by SoLa Impact, a major Los Angeles-based real estate development company, began in the unincorporated neighborhood of Westmont. SoLa has obtained approval for a new five-story residential building at the southwest intersection of 110th Street and Vermont Avenue.
The finished low-rise project will consist of 84 one-bedroom apartments, including 21 permanent, supportive and restricted-act affordable housing units. The project is designed by The Architects Collective and will consist of prefabricated modular elements built overseas and installed on site. On the ground floor of the L-shaped structure, there will be a lobby, common area, laundry facilities and social service offices. Modest parking is offered for the backyard of the property.
Look for construction leads
Also Read: Former Los Angeles Department of Mental Health Headquarters Renovation Project in the Cards
"As the light slit generated by the living room window is mirrored and layered, a sequence of five-foot-wide skylights provide a cohesive rhythm to the building's facade. The use of light gauge steel framing for modular construction is a significant architectural innovation that offers improved endurance and installation convenience over traditional wood-framed modules," reads a project description on The Architects Collective website. A spokesperson for SoLa Impact initially said the Vermont Avenue development will be completed in 2023.
Learn more about the SoLa Vermont Resort
Sola Impact is also establishing a location in South Los Angeles at 11630-11646 S. Main Street. These three projects are all located in Federal Opportunity Zones. This complex would include ten inexpensive apartments.
SoLa Impact, established in 2015, is responsible for the development of several affordable and mixed-use housing projects in South Los Angeles and San Pedro. More than 1,500 affordable apartments are part of the company's real estate portfolio. The developer is also working with The Architects Collective on plans for a similar mixed-income building on Martin Luther King Jr. Boulevard near the Baldwin Hills/Crenshaw Plaza Mall.
If you have any remark or more information about this article, please let us know in the comments section below.