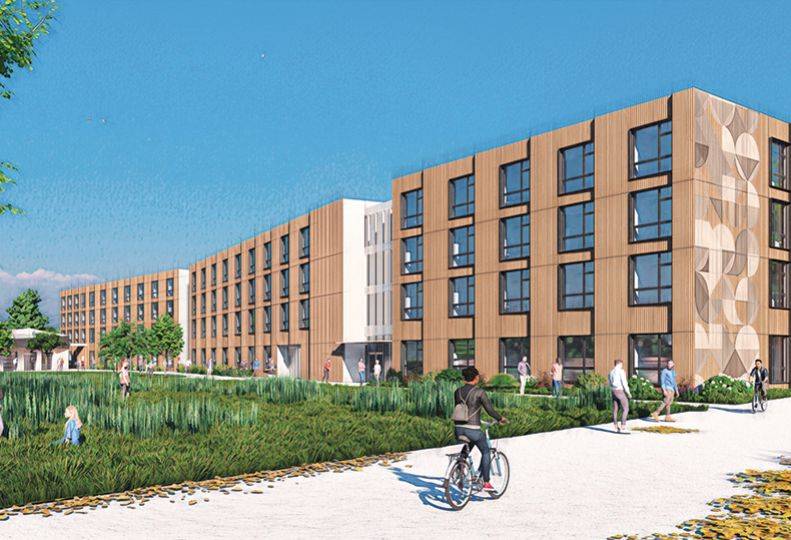 Construction in progress of a 160-unit multi-family building at Iron Bridge Office Campus, Washington
Construction is underway on a four-story, 160-unit multifamily building on the Iron Bridge office campus in Spokane's college district. The project developer, LLC Spectrum Development Solutionscollaborated with Seattle Pinnacle LLC Partners ensure financing for development.
According to the Seattle-based company, the development's $25 million construction value estimate could change as the building progresses. The project is designed by Seattle-based Mithun Inc. and based in Spokane ZBA PS Architecture. A contractor will probably be chosen the following month.
Iron Bridge Office Campus 160 Unit Multi-Family Building Features and Notes
Look for construction leads
There will be a variety of open studio, one-, two- and three-bedroom apartments in the 160-unit multi-family building at the Iron Bridge Office campus. There will also be parking for cars and bicycles. The property will also have a clubhouse, exercise center and half court for basketball.
According to a preliminary site design, the building will have a total area of ​​approximately 102,500 square feet. Therefore, there will be 25,000 square feet on each floor. Work is expected to begin in the spring of 2019 and end in the summer.
Also Read: Funding Secured for Confidential Mixed-Use Skyscraper in Seattle, Washington
"We have been looking for the perfect opportunity in Spokane for almost ten years. We have done a lot of social housing for teachers, civilian employees and health professionals who make up the missing middle class. We have also built many student accommodations. So we saw Iron Bridge as a chance to bring our Spectrum brand of housing to students and other young professionals in the market.
Additionally, we discovered that healthcare partners have many important synergies when it comes to their workforce housing needs. The economy of the location has been greatly improved by being in both an Opportunity Zone and a Tax Free Zone.
If you have any remark or more information about this article, please let us know in the comments section below.