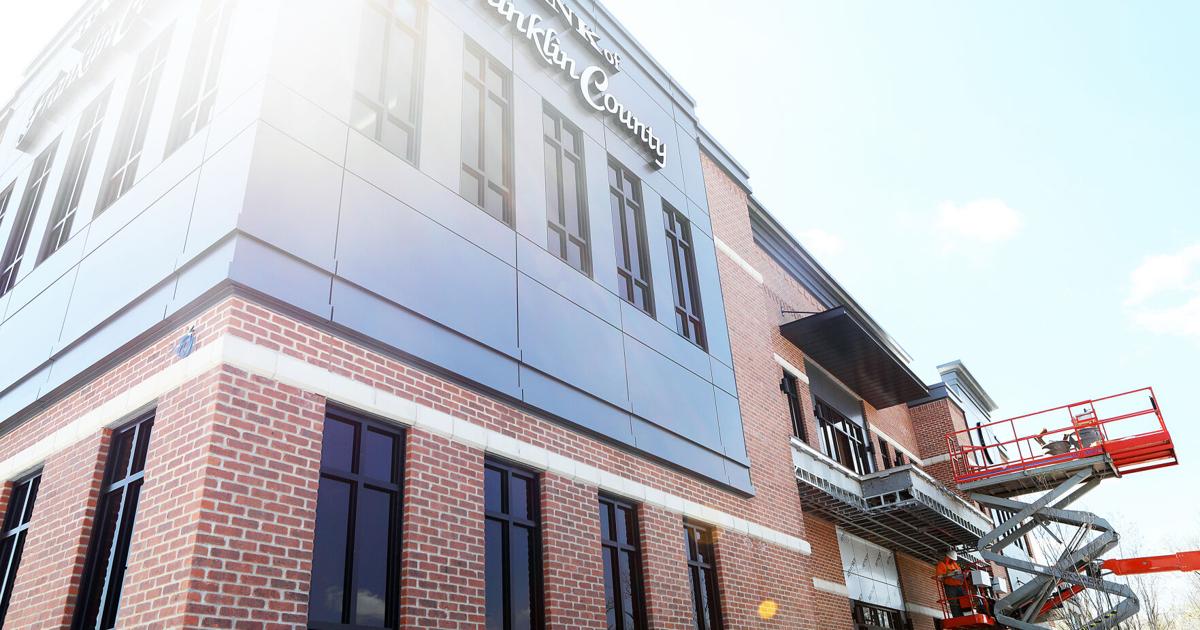 Construction of Bank of Franklin County Flagship Branch Nears Completion | Local News
Construction of the Franklin County Bank's flagship branch is nearing completion, and President Bob Dobsch said the lobby doors will open to the public in June.
Dobsch said he could not provide an exact opening date for the 1901 Rabbit Tail Drive branch due to ongoing supply chain disruptions caused by the coronavirus pandemic. The branch was originally expected to be completed late last year, according to Missourian archives.
Construction was expected to cost about $4 million, according to the building permit filed with the city. Dobsch declined to give an updated figure, but said, "It was more than we expected from a financial standpoint."
Architectural and construction work is carried out by Washington Engineering & Architecture Inc. and Jasper Builders Inc.
Boasting two open concept areas of 2,500 square feet on the first floor of the building for the bank lobby and the mortgage branch, the new branch also has a 7,500 square foot operation space on the second floor and space for adjacent retail space on the first level. Starbucks signs were installed recently, causing a buzz on social media. Dobsch said he didn't know the Seattle-based coffee company's exact opening date, but expected it to be around the same time as the bank's opening.
A former standalone Starbucks location opened at 3081 Phoenix Center Drive in Washington in 2007 and closed in 2013. Repeated calls to Starbucks' media relations line were not returned by the Missourian's print deadline.
Dobsch said the new branch will be different from the bank's other locations on Eighth Street, Krakow, New Haven and O'Fallon. Gone is the traditional counter. Instead, "universal bankers" will greet customers as they enter the building with a tablet and can handle most customer needs from the lobby floor. Becky Buhr, the bank's senior vice president of financial and retail operations, said that includes cashier transactions, account opening or closing, loan applications and debit card printing.
"The goal is to make it all fast and efficient," Buhr said. "You also don't want people having to go from point to point, so you won't have to be passed down the line."
If more privacy is needed, several "huddle rooms" will serve as office spaces where bankers and clients can discuss confidential information. In these areas, bank officials also expect to offer on-demand virtual conferences if someone has a question that a bank employee can answer from their desk.
Buhr said she expects there to be four to five universal bankers to help customers in the main lobby and the same number of mortgage officers. Approximately 36 people will work at the branch in total.
Additionally, Interactive Automated Teller Machines (ITMs), which have already been installed at other Bank of Franklin Country locations, will be installed for those wishing to make loan repayments, cash a check, deposit cash or withdraw cash. funds. ITMs are essentially ATMs, but instead of prompts written on a screen, customers virtually speak with a teller stationed at the New Haven branch of the Bank of Franklin County to guide them through a transaction.
In addition to the ITMs inside the lobby and outside the bank entrance, there will be two drive-thru ITMs as well as a Starbucks drive-thru.
Dobsch, who has worked in the banking industry for 42 years, said the banking industry has been constantly changing since its inception, so switching operations to the new location has not been a difficult transition.
"There's nothing you can do but embrace change," he said. "…With technology, change is everyday, so (my philosophy is) either embrace it or be miserable."