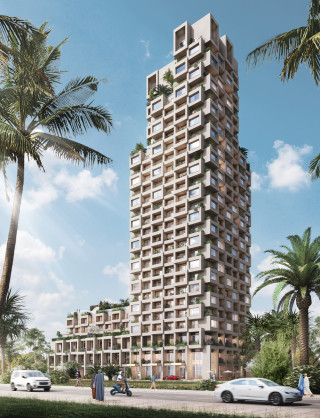 Construction of Burj Zanzibar, the tallest wooden structure in Africa and the tallest green building in the world, in perspective
Burj Zanzibar, a 28-storey apartment tower with hybrid wood technology is currently being planned for Zanzibar, an island in the Indian Ocean. Planned to reach a height of 96 meters, the building will be the tallest wooden structure in Africa. Moreover, it will be the tallest green building in the world.
Also read: Construction completed on residential towers on Broadway in London
Look for construction leads
The first wooden structure of this size in the world, the "vertical green village", as we know, would be an emblematic landmark for the island and all of Africa, as well as for the environment.
The mixed-use apartment and commercial building was recently unveiled to the public in Muscat. The building's designer, Dutch-born architect Leander Moons, said the Burj Zanzibar is an exceptional structure. He said it also represents a new ecosystem for the future of life.
Project location
The 266-unit residential tower will be built in East Africa's first eco-town, Fumba Town. It was developed by the German-led engineering company SCS. The growing city is close to the capital. Foreigners are allowed to buy, stretches along a 1.5 kilometer coastline on the southwest coast. It is considered a strategic investment and has the full support of the government of Zanzibar.
Burj Zanzibar should be the culmination and natural continuation of their attempts to create sustainable housing in Africa. It also promotes employment and local businesses. According to CPS CEO Sebastian Dietzold.
Zanzibar, with its turquoise sea, white sand beaches and old stone town, protected by UNESCOrecently experienced a 15% annual growth in tourist numbers and an economic growth of 6.8%.
Earlier this year, the 35 kilometers off the coast of the semi-autonomous archipelago of Tanzania spread its wings in another direction by launching a campaign to draw $6 billion in revenue from African tech companies.
When completed, Burj Zanzibar would be the tallest wooden building ever built and the first skyscraper ever built in Africa. Recently, the Council for Tall Buildings and Urban Habitat (CTBUH) has certified the 86.6 meter Ascent Tower in Milwaukee, USA as the tallest wood hybrid building in the world.
The 385-meter office tower in Egypt, nicknamed "Iconic tower" is currently under construction. It will be the tallest conventional skyscraper in Africa when completed.
Contractors Burj Zanzibar
All vital fire safety and life safety requirements are met by a steel reinforced concrete core. A group of high-level experts from the United States, South Africa, Tanzania, Austria, Switzerland and Austria will carry out the project.
The building's carbon footprint is further reduced through green rooftop gardens and planted balconies.
At the launch event, architect Leander Moons said Burj Zanzibar would be a widely visible landmark for Zanzibar and beyond. This would not only be because of its appearance but also for its method of construction.
Tanzania's Huge Land Resources for Agroforestry and Ambitious Mega Green tower should both benefit from the promotion of locally available wood as a building material.
Modern urban trends are combined with local culture in the playful architectural design. It looks like a beehive with honeycombs.
Lead architect Moons said panoramic windows, enclosed green loggias and a modular layout would bring out the green nature of the tower. They will also allow for adaptable apartment floor plans. Floor plans will be designed for all cultural preferences. Even on the top floor, residents can have their own outdoor garden.
The building comprises a mix of studios, one, two and luxury penthouse apartments, representing young, vibrant and above all sustainable living.
The tower is situated on a terraced podium with shops, public and private gardens and a swimming pool.
Unit prices
Unit sizes range from studios priced at $79,900 to a large penthouse with a private pool on the 26th floor at $950,880.
According to CPS Director Sebastian Dietzold, Burj Zanzibar will set a new building standard in the 21st century.