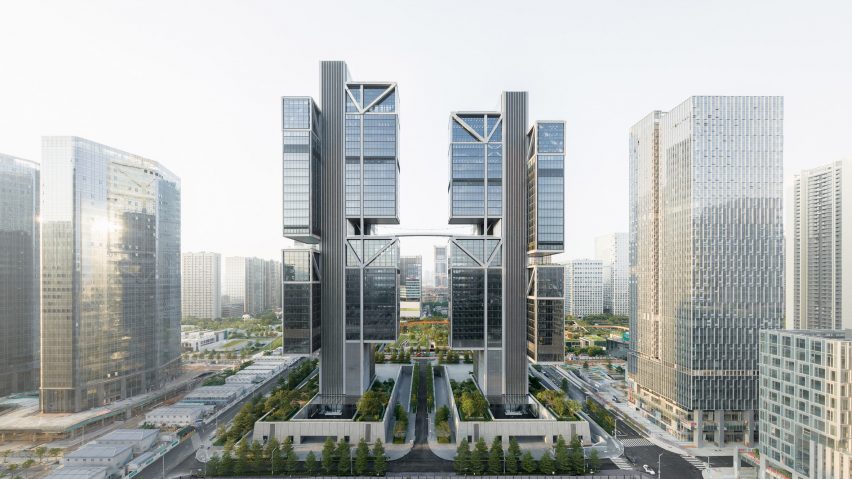 Construction of DJI Sky City in Shenzhen, China is complete
Foster + Partners, an architectural design and engineering firm, has completed the construction of DJI Sky City. The latter is the new headquarters of civilian drone manufacturer DJI in the Nanshan district southwest of Shenzhen, China.
DJI Sky City consists of two towers. The 44- and 40-story towers are laid out so that the research and development spaces are in the east tower. The office and public functions are in the west tower, which contains the main entrance.
An overview of the DJI Sky City building
Look for construction leads
The office and research spaces of these towers are organized in floating volumes supported by central cores. They consist of large mega trusses and circular profiled steel suspension rods. The structure eliminates the need for columns and creates continuous office and research spaces.
Additionally, the DJI Sky City building allows four-height drone flight test labs, which are distinctive of DJI. It will house research laboratories, offices, staff training facilities, a test flight area and public facilities.
A suspended walkway 90 m long and 105 m high connects the two towers. Aerial gardens atop the floating volumes provide private outdoor spaces for DJI employees. The ground floor of the building houses public amenities such as a community health center.
Also read: Plans for St Helens town center transformation project approved
The world pioneers of innovative drone technology
"We worked closely with DJI, global pioneers of innovative drone technology, to design a workplace that is expressive and emblematic of their creative ethos," said Foster + Partners senior executive partner Grant Brooker.
"The DJI Sky City building has a one-of-a-kind structure with suspended workspaces floating above the ground, resulting in a series of column-free studios where design teams can develop, test and showcase their incredible line of products. . "
Additionally, the ground plate design improves daylighting and views while reducing energy consumption. The new TWIN elevator system improves the usable area of ​​offices and its intelligent control system reduces energy consumption during off-peak periods.