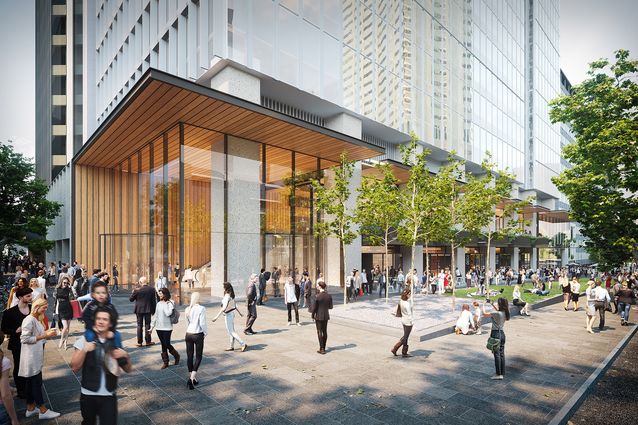 Construction of North Sydney 'Integrated Station Development' begins
Construction has started on a $1.2 billion North Sydney Victoria Cross tower and shopping district designed by Bates Smart.
The project is the first to be awarded under Transport for NSW's Sydney Metro tender process as part of the integrated development of Sydney Railway Station.
The 42-storey office tower is designed to rise above the proposed North Sydney Underground Station and aims to transform North Sydney's central business district into one of the most accessible business districts, with Victoria Cross one of the best connected workplaces in the region.
The Victoria Cross will also include a retail and commercial area, with an expansive lobby and multi-purpose community hub space, extending into an enabled retail aisle.
The building will be powered by 100% renewable energy, targeting a Platinum WELL rating and 6 Green Star ratings. Outdoor balconies and green spaces as well as community connection spaces are designed to support health and well-being.
"Our design positions the entrance to the tube station as the hinge between the new Victoria Cross Place and an east-west commercial walkway that will connect Miller Street to Denison Street, reconnecting the neighborhood's fragmented streets and creating a new neighborhood," said said Bates Smart.
"The base of the office tower integrates with this area and the entrance to the tube station to create a neighborhood that will act as a new democratic place for North Sydney."
The tower will accommodate up to 7,000 workers across approximately 58,000 square meters of high-end office and commercial space.
Construction of the $1.2 billion compound is expected to progress by one floor each week, with the project expected to be completed in 2024.
Related Topics