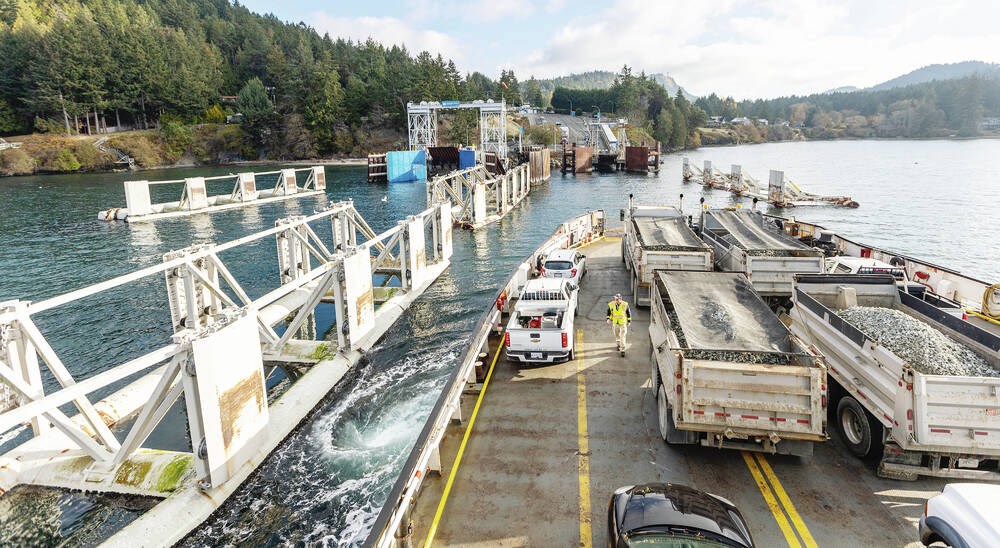 Heavy construction loads weigh down BC Ferries trips to the Gulf Islands
Turns out the Salish Heron doesn't have a weight problem – it just sees a lot more heavy construction vehicles amid a construction boom in the southern Gulf Islands
BC Ferries has been granted approval to carry more weight on the Salish Heron as an increasing number of heavy commercial vehicles use the vessel to travel between Swartz Bay and the southern Gulf Islands.
Lloyd's Register informed BC Ferries on Friday that the vessel is now cleared to carry an additional 150 tonnes, equivalent to around three additional construction vehicles.
Transport Canada has delegated Lloyd's to act on its behalf. It classifies and certifies ships and can approve special requirements for ships.
BC Ferries made the request because these heavy construction vehicles, which can weigh 60 tonnes or more when full of aggregate, can use up a lot of the ferry's weight allowance.
Earlier this month, the Salish Heron pulled out of Swartz Bay with an empty deck, leaving several motorists behind, after her load of commercial vehicles exhausted her weight allowance. Those who remained had to wait four hours for the next sailing.
Several large trucks carrying aggregates showed up on the Mayne Queen on Friday as it left Swartz Bay for stops at Saturna, Galiano and Mayne Islands.
Scott Wright of Mayne Island, who works as a carpenter on new homes and renovations, said the construction industry is "booming": "Everybody seems to be building new homes. Since COVID, it's really taken off.
Census data released in February identified the southern Gulf Islands as one of the fastest growing regions in the country.
Population growth on the islands easily outpaced the rest of the province between 2016 and the last census in 2021. While British Columbia grew by 7.6%, the southern Gulf Islands, not including Salt Spring, experienced growth of 29%.
The population of Mayne Island increased by 37.4% during this period, followed by Galiano Island at 33.7%, Saturna Island at 31.4%, South Pender at 30.2% and of North Pender at 19.4%.
Government infrastructure projects, such as road and trail works, also contribute to commercial truck traffic to the islands.
Last month saw the second highest volume of commercial vehicles in a month on the Swartz Bay-Southern Gulf Islands route since April 2009, BC Ferries spokeswoman Deborah Marshall said.
Braedon Bigham, owner of Braedon's Big Digem Excavating and Trucking on Pender, said business was steadily increasing on the island. "Every year we get busier and busier."
When the pandemic hit, buyers bought island properties and many moved to the islands, he said.
When questions were initially raised about the Salish Heron's carrying capacity, BC Ferries said it was considering swapping the ship, its newest, for a former Salish-class ferry.
But the company found there was little point in changing.
Bruce Paterson, director of naval architecture for BC Ferries, said the difference in weight between the new Salish Heron and other Salish ferries equates to a draft difference of about two centimeters – the distance between the line waterline and the bottom of the hull.
"From our point of view, there is no problem with the weight of the Salish heron. It weighs what it's supposed to weigh," said Ed Hooper, executive director of shipbuilding for BC Ferries. "She has the carrying capacity we requested."
The contract for the Salish Heron was delivered to BC Ferries specifications, he said, but the weight of construction vehicles can quickly reach a few hundred tonnes.
Paterson added that construction vehicle traffic is episodic. "We happen to have hit that cycle right now where we have construction, we have road repair," he said. "We have everything happening at the same time."
When BC Ferries defines how much weight a ship is supposed to carry, it looks at traffic statistics to get an idea of ​​what is needed, he said.
If a ship were designed to carry too many heavy vehicles, it would be box-shaped instead, which would result in higher fuel consumption over the life of a ferry, he said.
BC Ferries plans to seek approval from Lloyd's to carry more weight on other Salish Class ferries in the future.