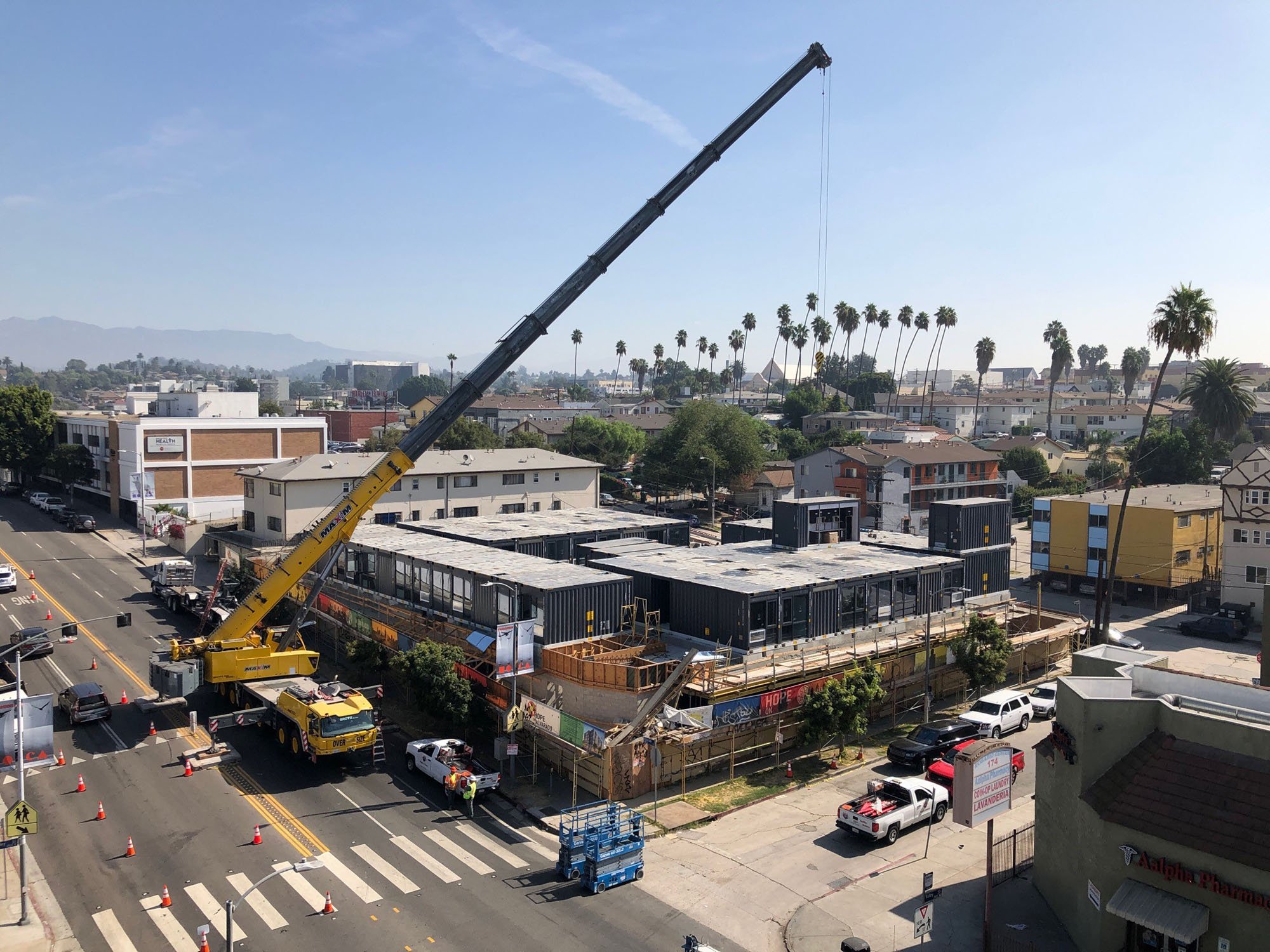 KTGY uses modular construction to build affordable housing
At Hope on Alvarado, a "drop and lock" method allows the majority of parts to be fabricated offsite before being installed and finished on the property, where a site-built concrete podium supports the steel modules. "It's basically a commercial building, with an infill of steel poles and the like," says KTGY manager Mark Oberholzer, walking through the ground floor lobby. Typical processes then stop there. Windows, kitchen and bath components and unit finishes are manufactured domestically and overseas, and transported by truck before being directly erected by crane.
Hope on Alvarado, in the Westlake neighborhood of Los Angeles, is organized around a central courtyard plan, with 84 fully furnished studio or one-bedroom units placed along double-loaded hallways. Resident facilities include a community hall, bicycle storage, and a shaded, landscaped rooftop terrace on the fifth floor. Given the learning curve here, the effort has reached "cost parity" with average construction costs for affordable housing, which are higher than market-priced housing due to prevailing wage agreements and other regulatory factors, says Oberholzer. But time is money. "One of the major wins is the timing of construction," he says, since onsite and offsite construction are tracked in parallel.
In this case, the building's corrugated steel exterior elements are a deliberate choice and a nod to the popular aesthetic of pre-engineered shipping containers. These components are, however, newly sourced and tailored to each project. "We intentionally customized" each modular housing project, notes Oberholzer. Even with the rectilinearity and rationalization of the processes of these projects, "everything becomes not repeated, depending on how you adapt to the site. Hope on Alvarado's expansive interior windows emphasize visual connectivity, in addition to providing abundant natural light, while allowing for privacy. The street-facing elevation, which also contains generous spans of fenestration, is deliberately "rough around the edges," he says. "You can see the welds and it's all sort of exposed" to emphasize the practical industrial materiality that contrasts with the plank-like concrete detailing. Fixed vertical screens add dimension and shade to the west-facing facade that faces Alvarado. This feature is also critical, given that the building's position directly welcomes Southern California sunlight which intensifies in the afternoon and evening.
More Metropolis
In addition to the aforementioned Hope projects, some of which are partially funded by HHH proposal, KTGY's innovations in the field of modular architecture hold promise for broader impacts. The company has designed modular multi-family projects in Orange County, Pasadena and Koreatown with other development partners. "I think we learned a lot during construction and manufacturing," Oberholzer says of Hope on Alvarado. "So unlike most lessons you learn in life, we learn to actually apply those lessons."