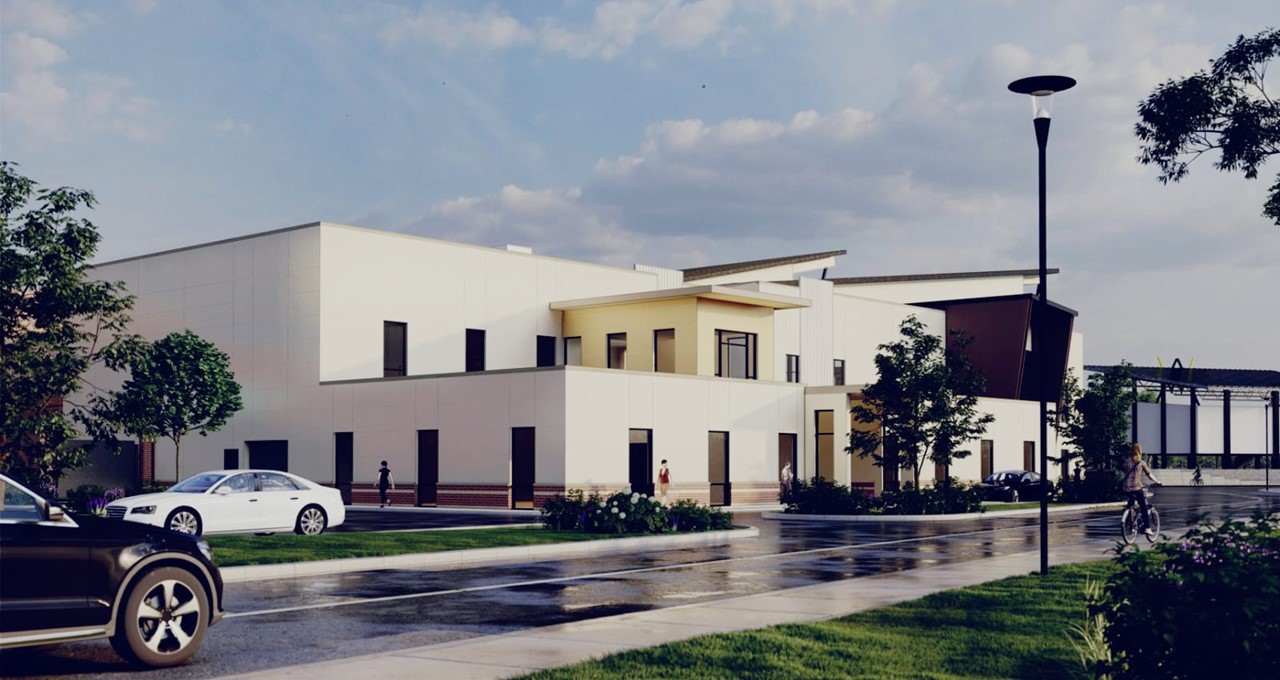 Meet the Omnivore: Christopher Scott Builds Architectural Designs and Virtual Environments with Omniverse
Editor's Note: This article is part of our Meet the omnivore series, which features individual creators and developers who use NVIDIA Omniverse to accelerate their 3D workflows and create virtual worlds.
Growing up in a military family, Christopher Scott moved more than 30 times, which instilled in him "the ability to be comfortable and even motivated by new environments," he said.
Today, the environments he explores — and creates — are virtual.
As Chief Technical Director of 3D Design and Visualization Services at Infinite-Compute, Scott creates physically accurate virtual environments using familiar architectural products in conjunction with NVIDIA Omniverse Enterprise, a platform for connecting and create custom 3D pipelines.
With a background in leading advanced engineering projects for the US Department of Defense, Scott now creates virtual environments focused on building renovation and visualization for the architecture, engineering, of construction and operations (AECO).
These true-to-life virtual environments – whether they are electrical rooms, manufacturing plants or modern home designs – enable fast and efficient design of products, processes and facilities before bringing them to life in the real world.
They also help companies in AECO and other industries save money, speed project completion, and make designs interactive for customers, as will be highlighted at NVIDIA GTC, a global conference on AI and the Metaverse, which will be held online from September 19 to 22.
"Physically accurate virtual environments help us deliver our customers' projects faster, while maintaining a high level of quality and consistency of performance," said Scott, who is now based in Austin, Texas. "The key value we deliver to our customers is the ability to make better decisions with confidence."
To build his visualizations, Scott uses Omniverse Create and Omniverse Connectors for several third-party applications: Trimble SketchUp for 3D models for drafting and design; Autodesk Revit for 3D design and 2D annotation of buildings; and Unreal Engine to create step-by-step simulations and 3D virtual spaces.
Additionally, he uses software like Blender for visual effects, motion graphics, and animation, and PlantFactory for 3D vegetation modeling, giving his virtual spaces a lively, natural aesthetic.
Project Accelerations with Omniverse
In just four years, Scott has gone from 50 projects a year to more than 3,500, he said.
About 80 of his projects each month include point cloud lidar work, a complex process of turning spatial data into a collection of coordinates for 3D models for manufacturing and design.
Using Omniverse doubles productivity for this demanding workload, he said, because it offers real-time photorealism and physically accurate rendering, as well as live synchronized collaboration between users.
"Previously, our team members operated as individual islands of productivity," Scott said. "Omniverse gave us the integrated collaboration we wanted to improve our effectiveness and efficiency."
At the heart of Omniverse is Universal Scene Description, an extensible open-source 3D framework and common language for creating virtual worlds.
"Omniverse's USD standard for integrating multiple software releases has allowed our team to collaborate on a source of truth project – allowing us to work across multiple time zones much faster," said Scott, who is further accelerating his workflow by running it on NVIDIA RTX GPUs. , including the RTX A6000 on Infinite-Compute's on-demand cloud infrastructure.
"It became clear very soon after appreciating the depth and breadth of Omniverse that investing in this pipeline wasn't just enabling me to improve current operations," he added. "It provides a platform for future growth – for my team members and my organization as a whole."
Although Scott says his work is more technical than creative, he sees using the Omniverse as a way to connect these two sides of his brain.
"I like to think that embracing technologies like Omniverse to deliver cutting-edge solutions that have a meaningful and measurable impact on my clients' businesses is, in its own way, a creative exercise, and perhaps even a work of art. of art," he said.
Participate in the creation
Creators and developers around the world can download NVIDIA Omniverse for free, and enterprise teams can use the platform for their 3D projects.
See NVIDIA's latest advancements in the AI ​​that powers graphics and virtual worlds at GTC, online September 19-22. Join for free now and attend the best sessions for 3D designers and developers to learn more about how Omniverse can accelerate workflows.
Join the NVIDIA Omniverse User Group to connect with the growing community and see Scott's work in Omniverse celebrated.
Discover the works of other "Omnivores" and submit projects in the gallery. Connect your workflows to Omniverse with software from Adobe, Autodesk, Epic Games, Maxon, Reallusion and more.
Follow NVIDIA Omniverse on instagram, Twitter, Youtube and Medium for additional resources and inspiration. Discover the Omniverse forumsand join our Discord Server and Twitch Channel to chat with the community.