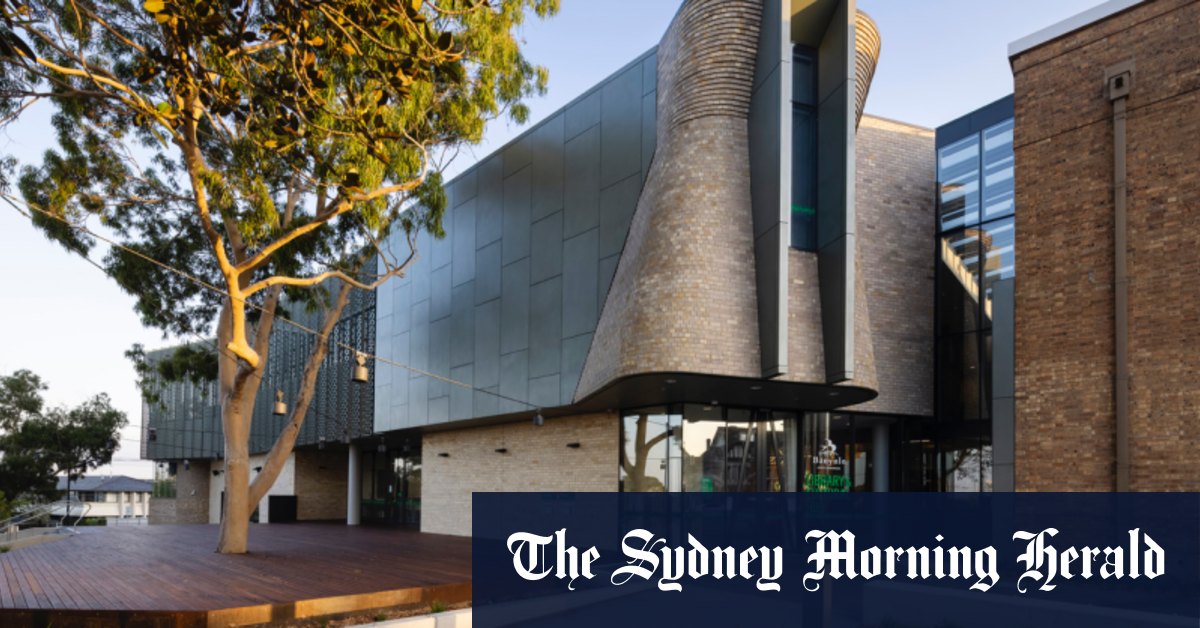 New Ivanhoe Library Complex Comes to Life as a Cultural Center
Arrival is through an abstract bell-shaped cantilever above the entrance, with an elongated window drawing into the lobby.
Bricks are also present in this building: a brown-grey Krause brick rather than the distinctive cream-colored bricks used in the interwar period.
"We wanted to create texture as well as a clear separation from the past," Ramsay says, also pointing to the laser-cut screen used to cover the upper level with western sunlight while maintaining the view of the city.
Given the number of amenities provided in the library and cultural center, it must have been a challenge for the architects to create a cohesive plan where there was a natural progression between the spaces – from the galleries (one on each level) to two libraries, with the main library on the upper level for all ages and for various activities, including meeting spaces, "creative spaces" and even two studios for artists in residence.
To ensure the community is aware of the amenities offered, the atrium and main circulation spine are clearly visible from various vantage points.
Loading
As one moves towards the main reception area, generous windows also showcase the art within.
The mezzanine, before entering the library on the upper level, has built-in seating and a room for musicians to perform at special events.
The theater adjoining the café, designed to accommodate just over 100 people, is "two-sided". A large industrial style overhead garage door allows the public to spill out onto the terrace, or alternatively, allows the interior to be treated as a stage with the public enjoying the outdoors.
"The challenge was to ensure a strong connection between the different spaces, whether it was parents using the café before going to maternal health services or using the theater for story time when it wasn't used for shows," says Ramsay.
"In this case, it was also about the different members of staff working together, such as the library providing certain books in connection with specific art exhibitions."
This new center also creates a refreshing entrance to City Hall, which can accommodate up to 500 people (a large new commercial kitchen was also part of the brief).
The reworked council chambers, accessed via a new bridge, provide a greater connection to the past, with the original brick rear façade now fully exposed in the atrium.
But most importantly, for the community that now benefits from this center, the pleasure goes far beyond the views of the city.