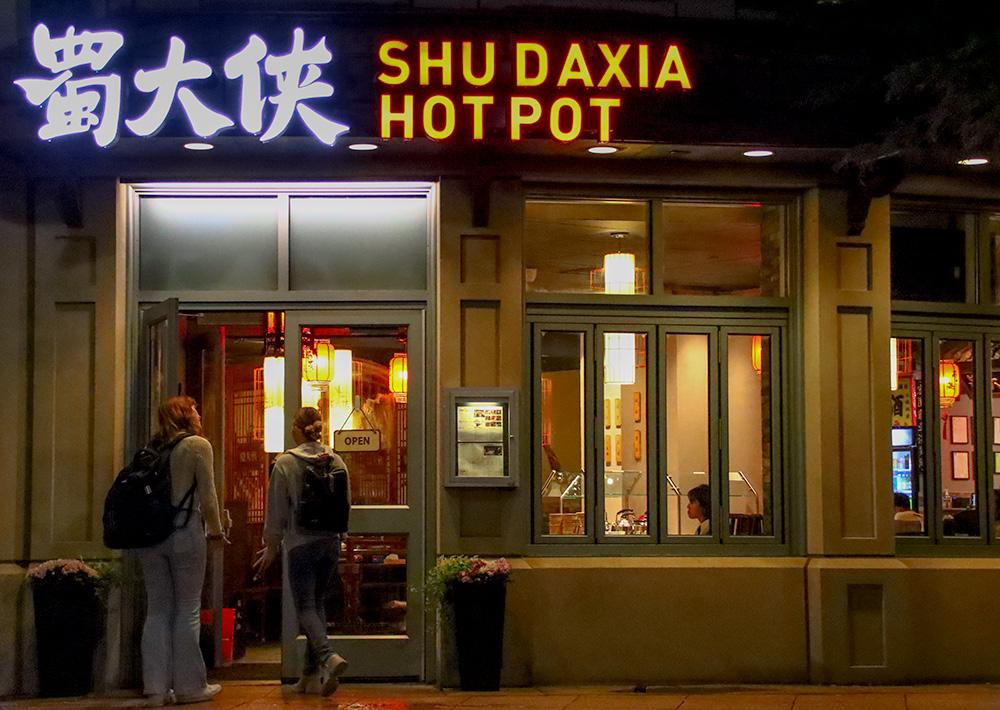 Shu Da Xia Hotpot opened after construction delay due to COVID-19 – The Daily Free Press
Shu Da Xia Hotpot opened in May after prolonged construction due to the COVID-19 pandemic.
The restaurant is located at 580 Commonwealth Avenue across from the main entrance to the Questrom School of Business. It specializes in "authentic Sichuan hotpot," with a variety of soup bases adjusted to different levels of spiciness, two buffet tables for personalized dipping, and distinctive raw meat ready to be served in innovative ways.
Some tables are separated by wooden doors that resemble ancient Chinese architecture, alongside crimson chairs and food stalls. Each table accommodates four or more customers with one or two circular heaters in the center to poach sliced ​​pork belly or prime marinated beef.
According to Leroy Lee, the manager of Shu Da Xia Hotpot, the plan was to start operations in late 2019, but COVID-19 disrupted construction and delayed its opening.
"A lot of BU students thought we were closed because we put our logo outside for a very long time," said Ivory Guan, restaurant manager and shareholder and BU alumnus. "It never closed. We just didn't open at that time.
After it opened, the restaurant saw steady business despite its lack of publicity.
"(The restaurant) meets my expectations," Guan said. "Since COVID is almost over, students are coming back."
Some knew about the opening of Shu Da Xia Hotpot from their friends or social media notifications, while others knew about it from passing by the restaurant.
"It's a good place to hang out with my friends and it's very close to BU," said Yaning Song, a sophomore at the College of General Studies. "So after school we can go there for dinner or lunch."
The restaurant has a special way of welcoming customers, which impressed Song when she went there with her friend.
"Once we arrive and take our seats, they will say 'Da Xia liang wei'," Song said, meaning "great warriors in pairs." "I was surprised by this because other restaurants don't have this."
Anni Tang, a sophomore at CGS, said she had heard of Shu Da Xia as a hotpot brand before, which prompted her to have dinner with her roommate.
"I thought Shu Da Xia was a [chain restaurant], but I haven't tried it before in other areas," Tang said. "So I'm really looking forward to trying it [in Boston]."
Huayu Chen, a senior from the College of Arts and Science, said they had been to the restaurant three times already.
"There's a dish called Brown Sugar Rice Cake," they said. "I order it every time. It was pretty good.
Overall, students feel satisfied to have another restaurant where they can eat on the nearby campus.
"The location was good, but the price was a bit expensive but not super expensive," Chen said. "If there is a rating for this restaurant from 1 to 10, I would give it a rating of 9 out of 10."