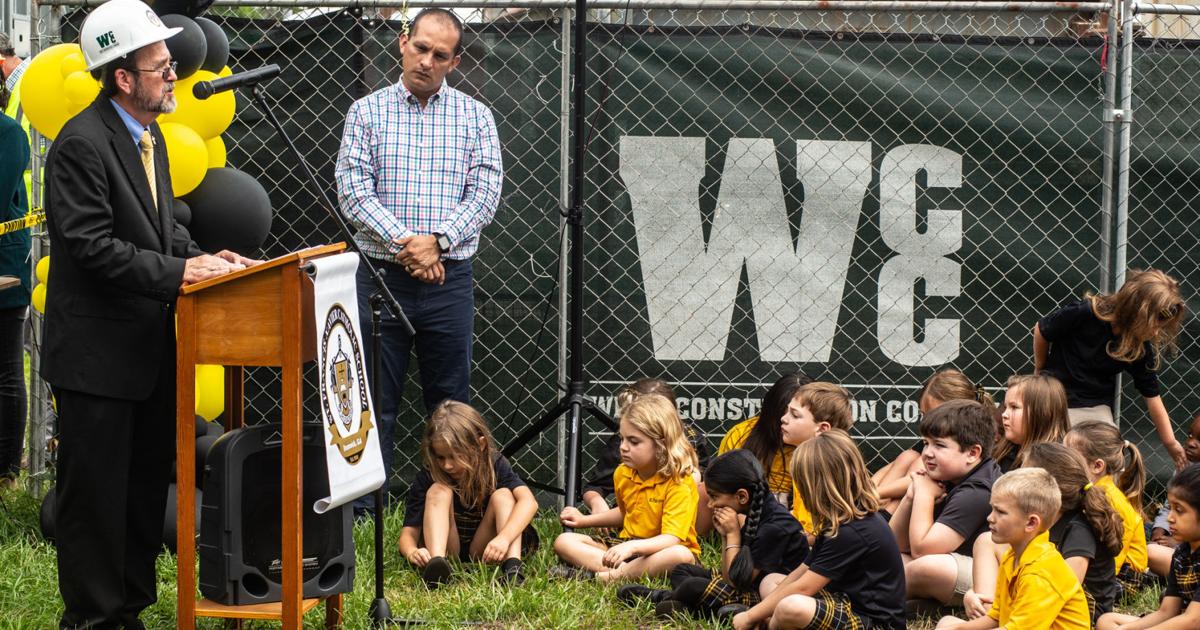 St. Francis Xavier Hosts Ceremony to Celebrate Construction Milestone | Local News
The white steel beam stood out against the gray and brown beams that make up the new addition to St. Francis Xavier Catholic School.
Its color, along with the range of signatures and handprints covering all sides, marked its importance as the final beam to be placed atop the school's construction site.
St. Francis Xavier held a "finishing" ceremony on Tuesday to celebrate a big moment in a project that began six months ago but has been in the works for years.
The new building will encompass kindergarten through eighth grade and will include classrooms equipped with the latest technology. The new school will also have a cafetorium, computer lab, science lab, specialized classrooms, library and music room.
The building will incorporate a blend of modern construction advantages and traditional architecture.
The campus will also include a new playground and play surfaces that will be self-contained with modern security measures.
St. Francis Xavier students first attended school in a convent which also housed the nuns who taught them.
They moved into the school where they are today on Union Street about 60 years ago.
The new building, slated to open this year, will likely last for decades and will be the next chapter in the school's history.
"If you think about it, this building is going to take us into the next century, to the year 2100," said Terry Mermann, director of St. Francis Xavier. "Not only will you go to school here, but later your children will go to this school and eventually some of your grandchildren will go to this school."
Construction of the new building began on November 15, 2021. Since then, more than 9,000 hours of work at the site have involved pouring over 600 meters of concrete and placing 250 tons of steel.
The final beam placed at the top of the structure was also adorned with a tree and an American flag.
The tree means construction is reaching its climax with no crew members injured, said Matt Schivera, vice president of West Construction Company.
"Nobody had to put on a bandage or anything," he said. "It also brings good luck to future occupants, so it's a great symbol that has lasted for many, many years with closing ceremonies."
The signatures and handprints on the beam are a significant gesture, Mermann said.
"When you come back to visit when you're in high school, you can look up there and say, 'My name is on that beam,'" he said. "And when you come back when you're in college, you can look up and say, 'My name is on that beam.' And when you come back as a young married man or woman, you can enroll your students in our school and say, 'My name is at the top of this beam.'
St. Francis Xavier is more than a school building, he said.
"St. Francis Xavier Catholic School is rooted in the Catholic faith," Mermann said. "It is a school that recognizes the dignity and worth of every student. And a school that encourages family involvement.
The new building does not change the history of the school, but will match the quality education the school has long provided, he said.
"All classes, all labs, all specialties and electives will be under one roof," Mermann said. "Our playground will be modern and safe. And like I said, the new school won't change what we used to do, but it will now reflect the exemplary education our students receive every day.