The design of the Montreal Holocaust Museum favors sensitivity and urban integration
The winning design of the Montreal Holocaust Museum (MHM) competition, by KPMB Architects + Daoust Lestage Lizotte Stecker, respects the sensitive history of the Holocaust while organizing its space to integrate closely with the surrounding urban context.
According to the competition's objectives and evaluation criteria, this design won out because of its integration into the urban context, the clarity of the organization of the spaces and the integration of the gardens into the museum experience. The jury also noted that the team had a good understanding of the mission of the Holocaust Museum and approached the subject with great sensitivity.
"The brilliant design succeeded in creating a space of powerful architecture that remains respectful and sensitive to the difficult history of the Holocaust and its human rights legacy that will be passed on within its walls," said Daniel Amar. , Executive Director of the MHM.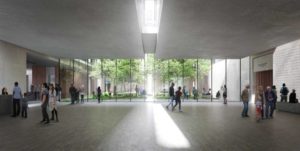 Based on the pillars of memory, education and community, the new building will contain several exhibition spaces, classrooms, an auditorium, a memorial garden and a room dedicated to survivor testimonies.
Construction of the new Museum, which will be located at 3535, boul. St-Laurent in downtown Montreal, will begin in the fall of 2023.