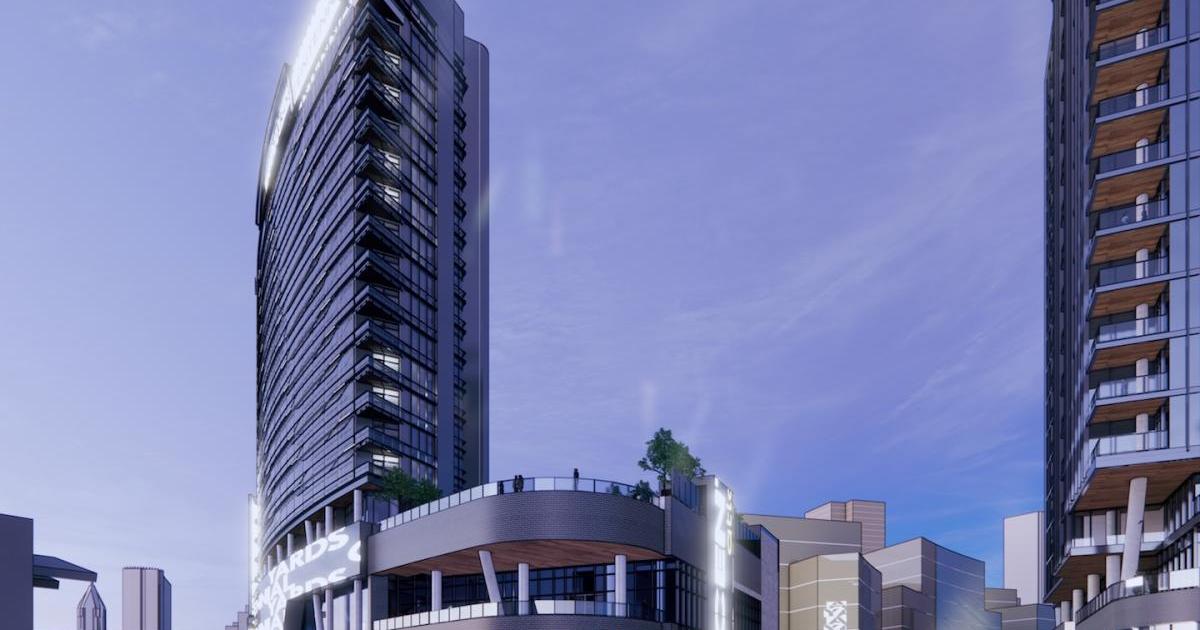 The first two Centennial Yards towers to officially begin construction
The Gulch's transition from a festering urban void to an epicenter of downtown redevelopment is set to take a big step forward this week.
Centennial Yards Company has scheduled a celeb-studded groundbreaking ceremony for Thursday afternoon to mark the start of construction of the megaproject's first two buildings, a pair of mid-rise towers that will stand across from Mercedes-Benz Stadium. .
Both buildings will rise 18 stories above viaduct level over the Gulch, a massive, unsightly ravine long used for rail transport and tailgating where previous redevelopment ideas perished.
Uses call for a 291-key hotel in one building, while the southernmost structure closest to Castleberry Hill will see 304 apartments. Parking lots and charging infrastructure will be located under each building, officials said in an announcement today.
Centennial Yards Company President Brian McGowan and Atlanta Mayor Andre Dickens are expected to lead Thursday's ceremony on Mitchell Street, along with famed local news anchor Monica Kaufman Pearson, co-owner of the Hawks and member of the NBA Hall of Famer Grant Hill and political commentator and lawyer Bakari Sellers.
Officials at Centennial Yards Company, a subsidiary of California-based developer CIM Group, have filed documents for ground disturbance permits to begin work on the two new ground towers in June. The erection of cranes next to The Benz would be the most visible sign that the potentially $5 billion project is becoming a reality since CIM entered the scene more than five years ago.
Eventually, Centennial Yards is expected to create a dozen city blocks on 50 acres, backed by a nearly $2 billion tax incentive package.
The first new apartment building on the site will be a mix of studios up to rare three-bedroom rentals, with commercial space at the base. Facilities will include a swimming pool with lawns for events, on-site coworking, a dog play area, multiple lounges and a fitness center with TechnoGym equipment, according to this week's groundbreaking announcement.
Twenty percent of Centennial Yards apartments will be set aside as affordable housing, the development team said.
The hotel project, meanwhile, includes a rooftop restaurant and bar with downtown views, as well as another hotel-run restaurant serving three meals a day on the ground floor.
A pool deck and lawn will have the capacity to host large events, while an 8,000-square-foot ballroom will have a window wall with views of the rest of Centennial Yards, officials said.
The architectural firms for both projects are TVS and Goode Van Slyke, the former taking the lead on the interior fittings. According to Centennial Yards Company, designers were tasked with "ensuring these towers provide an active, safe, walkable and entertaining environment."
Access the gallery for more context and a preview of what to expect.
• Downtown news, talk (Urbanize Atlanta)