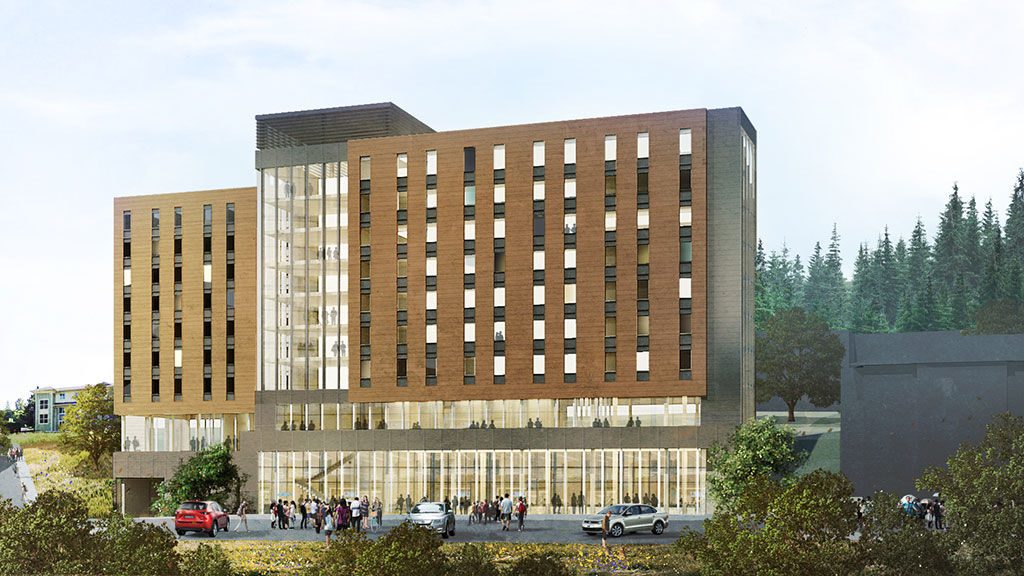 The VIU log building breaks new ground while adding to the thrust of wood construction
A new mass timber project is both a first for Vancouver Island University (VIU) and another step forward for BC's Wood First policy.
VIU is constructing an $87.8 million, nine-story log student housing project that will include 266 student beds, common space and a new dining hall at its campus in Nanaimo, BC.
VIU's associate vice president of facilities and ancillary services, Richard Lewis, said the project was a chance for the university to diversify while meeting its environmental responsibilities.
"From our perspective, it allowed us to do some things that were maybe a bit unique, including increasing the build height and provided us with a lot of seismic property benefits as well as environmental benefits" , Lewis said.
"This would be our first hardwood company and it all seemed to align well with our sustainability, building performance and seismic performance goals, which is how we ended up where we did. "
In addition to solid wood's contribution to sustainability, the project will also use a geothermal mine water exchange system that taps into the former Wakesiah Mine located below the campus. The mine was abandoned in the 1920s and has since been flooded with groundwater, but in 2018 the university built the first phase of the trading system to harness geothermal energy.
"This gives us a truly unique opportunity to heat and cool buildings. We have been doing this since 2018 with some of our new construction projects and we will extend this to this project as well. This really allows us to achieve exceptional building performance and low greenhouse gas emissions for heating and cooling solutions," said Lewis.
The challenges inherent in building on the VIU campus include managing a steeply sloping site since the campus is located on elevated ground and close to other operating facilities and students.
"There will be challenges with proximity. There are always some on campuses and in construction projects, but we are really confident in the placement and alignment of where we put the project on campus with our master plans. We're on the Mount Benson side, and we still have considerations around a sloping site that sometimes make things a bit more difficult. These just go with the building territory where we are," he said, adding that the new structure will act as a "gateway" to the rest of the campus.
Vancouver architecture firm Perkins & Will has created designs for the business case submission, Lewis said, but the procurement process is in its early stages and a project architect has yet to be chosen. .
"Our plan is to open it in September 2025, so we are moving ahead with procurement and will look to start the detailed design process late this year or early next year," said Lewis said.
British Columbia Minister of Jobs, Economic Recovery and Innovation Ravi Kahlon hailed the project as providing both critical student housing and spearheading sustainability through the use of solid wood.
"(It's) not just built for students and with affordability in mind, but also with sustainability in mind. We know the way we construct buildings is about to fundamentally change. In fact, in British Columbia, we are leading the way and this project will not only be beautiful, it will be sustainable and it will provide much needed housing for young people in our communities," said Khalon.
Khalon said what excites him about the massive use of wood in post-secondary and other public institutions is that it's a "triple word."
"It's about innovation, about connecting rural and urban communities in our economies, and ultimately it's about sustainability. We've been building the same way for 40, 50, 60 years and the industry has been slow to change. The opportunity here is to have a fundamental change in the way we construct buildings and to construct them faster," he said.