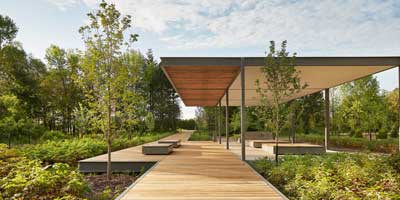 The winning projects of the 2022 Awards of Excellence in Architecture unveiled
The Ordre des architectes du Québec (OAQ) has announced the winners of its awards of excellence and distinctions for 2022. Fourteen projects were recognized during a ceremony at the St-James Theater in Montreal.
The 2022 Grand Prix d'excellence was awarded to Daoust Lestage Lizotte Stecker for the firm's fall experience, a redesigned pavilion and footbridge at the foot of Montmorency Falls near Quebec City.
Winners of the 2022 Awards of Excellence in Architecture, by category:
Grand Prize of Excellence
• Chute Experience designed by Daoust Lestage Lizotte Stecker located in the Capitale-Nationale region
cultural building
• Biodôme Migration designed by KANVA Architecture in collaboration with NEUF architect(e)s located in Montreal
Public Institutional Building AND People's Choice Award (People's Choice)
• Final phase of the CHUM hospital complex and Pierre-Péladeau Amphitheater designed by CannonDesign + NEUF architects and Jodoin Lamarre Pratte / Menkès Shooner Dagenais LeTourneux architects in consortium located in Montreal
Commercial/industrial building
• Montauk Montreal sofa designed by Cohlmeyer Architecture located in Montreal
Industrial building (two winners)
• Water intake, Canal de l'Aqueduc designed by Smith Vigeant Architectes located in Montreal
• Lafond Desjardins Dental Laboratory designed by ACDF Architecture located in Laval
Multi-unit residential building/complex
• Queen Alix designed by Blouin Tardif Architectes located in Montreal
Single-family residential building, urban setting
• Maison Saint-Charles designed by La Shed Architecture located in Montreal
Single-family residential building, natural setting
• Maison du Pommier designed by ACDF Architecture located in Saint-Donat-de-Montcalm
Interior Design (two winners)
• LAUR offices designed by Alain Carle Architect located in Montreal
• EG designed by Jean Verville, architect located in Saint-Jérôme
Heritage enhancement
• Gare Windsor – Restoration of masonry and replacement of windows designed by DMA architects located in Montreal
Uncategorized work
• Chute Experience designed by Daoust Lestage Lizotte Stecker located in the Capitale-Nationale region