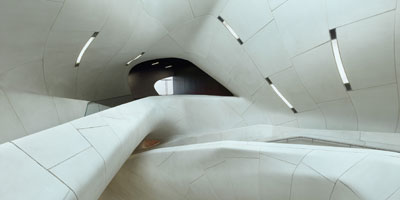 Trahan Architects museum project to air on Smithsonian Channel
The Louisiana State Museum and Sports Hall of Fame project in Natchitoches, New Orleans will be featured on the Smithsonian Channel series "How Did They Build That?" for its unique architectural design.
Founder and CEO of Project Manager, Trahan Architects, Victor F. "Trey" Trahan, III, FAIA, will appear alongside his partner Brad McWhirter to talk about the work being done to complete the project, which won multiple awards from design, including the National AIA Award for Interior Design.
Located on the shores of Cane River Lake, the museum is inspired by the riverside setting, early sustainable practices and spatial equity. Carved from over 1,100 unique cast stone panels, the museum's interior reflects the region's fluvial geomorphology – the transformation of the landscape from centuries of carving by the meandering river – and seamlessly integrates building systems and serves as a canvas for exhibitions and films.
Jay Dardenne, former Lieutenant Governor and current Louisiana State Commissioner of Administration, said, The new building is both an icon for the state and an important community center for the region. It is a remarkably innovative structure, setting a high standard for public buildings in Louisiana while reflecting the unique characteristics of our distinct culture and context.
The Trahan Architects feature will appear in the second season of "How Did They Build That?" airs July 31 at 8 p.m. EST. The show will be available to stream on Paramount+.