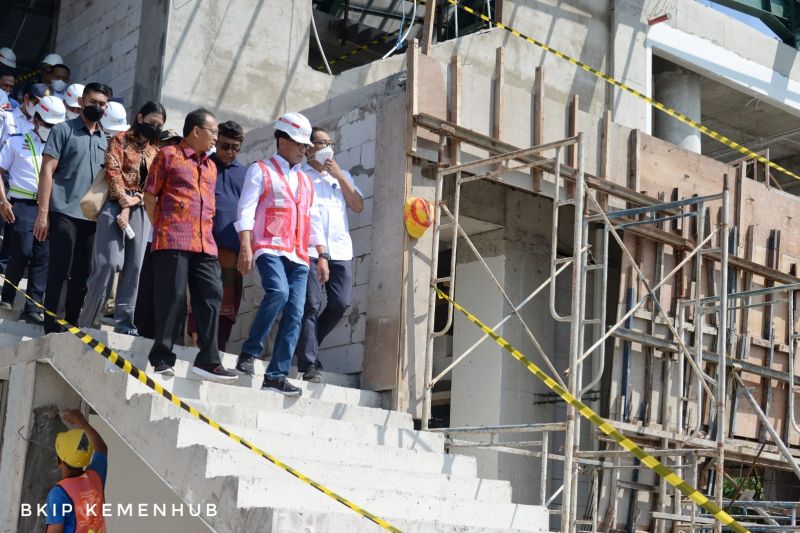 Transport minister reviews construction of Sanur port in Bali
Jakarta (ANTARA) – Transport Minister Budi Karya Sumadi has inspected the construction site of Sanur Port in Denpasar, Bali, whose progress has exceeded 80% and is expected to become operational next September.
"When the port is completed, passengers won't have to wade through the water (to reach the boat) because there will be docks. It's a great tourism potential (for Bali). We hope that (the port) will support the organization of the G20 summit in Bali," Sumadi noted in his statement here on Saturday.
The Minister noted that Balinese architects had been consulted to develop the port terminal which would respect the traditional Balinese architectural style.
"We will increase the Balinese architectural style and cultural nuance (at the port terminal). This port will be the hub for travel to other islands, such as Nusa Penida, and will also improve local tourism," he said. note.
He then reiterated the ministry's commitment to ensure the development of public transport and infrastructure for the benefit of the population.
"Every development should bear fruits that can be enjoyed (by residents). The old port facilities are rudimentary, so we will develop a modern and perfect port to facilitate residents," Sumadi remarked.
Related News: Ministry begins construction of passenger terminal at Sanur Port
Meanwhile, Bali Governor I Wayan Koster said the authority is constantly monitoring the port's development to ensure progress remains smooth and on schedule.
Koster expressed his optimism over the inauguration by President Joko Widodo (Jokowi) of Sanur Port and two other new ports in Bali: Bias Munjul Port in Nusa Ceningan and Sampalan Port in Nusa Penida.
"The presence of these three ports is expected to serve as new economic hubs in Bali and will positively benefit Bali residents economically," the governor said.
Apart from monitoring the construction progress at Sanur Port, the minister also inspected the arrival hall of I Gusti Ngurah Rai International Airport to observe the preparation of the facilities for the upcoming G20 summit later this year.
The Ministry of Transport started the development of Sanur Port in December 2020. The development is designed under a multi-year budget program, with a budget of 398 billion rupees ($27.4 million) for the disbursed port by the ministry.
Related News: Benoa Port in Bali Wins 'Best Port Hospitality' Award