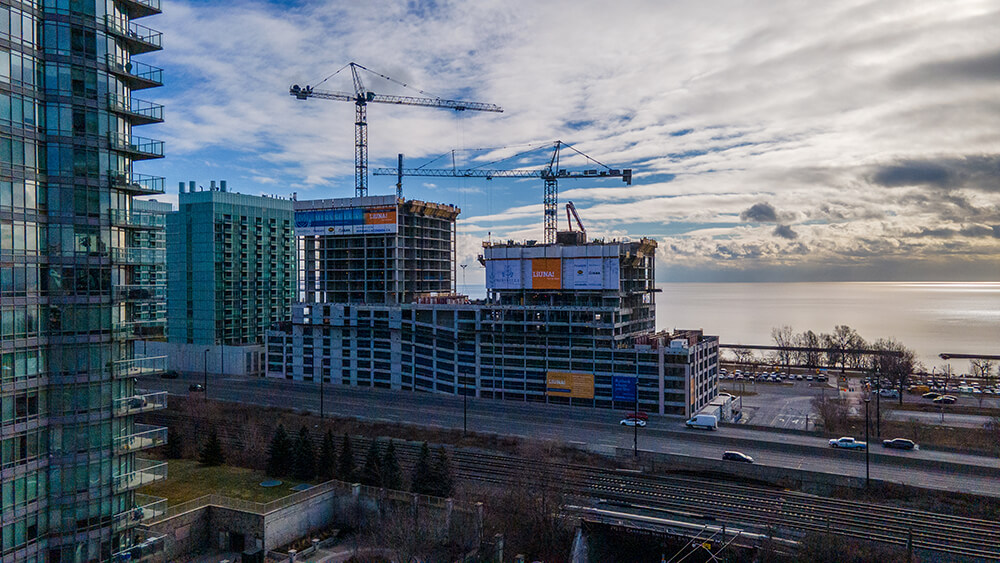 ULMA Construction provides the basis for the development
While lovers of architecture and design may be drawn to looks and style, nothing happens in residential or commercial development without the required foundations and forms on which everything rests and rises above. Building any structure requires the "right bones" of high quality materials – especially concrete forms, scaffolding and shoring equipment. It may not grab headlines or spark conversation like architecture does, but it's essential to any project.
One of the world leaders in this field is ULMA Construction, founded in Spain in 1961 and which has been operating in Canada since 2009 with its head office in Cambridge and five sites across the country. ULMA offers integral solutions focused on the rental of products and the sale of systems manufactured in-house and designed with the highest construction engineering technology. Its products touch nearly every construction project you can imagine, from residential homes to skyscrapers, schools, hospitals, stadiums, hydroelectric projects and power plants, and even roads and bridges – all supplied by its massive manufacturing facility. in northern Spain.
160 Front West in Toronto, image courtesy of ULMA
"Our production facility is one of the largest manufacturing facilities in Europe at 619,000 sq. ft., with fully automated and robotic processes," says Mark Tisdall, President of ULMA Canada. "From there, we supply the thousands of products we manufacture to our extensive global network of logistics centers across five continents. The products manufactured by ULMA, developed thanks to the permanent effort of research and development, meet the needs of the construction sector. With an excellent response in terms of quality and safety by integrating compatible systems and designs, we offer a wide range of products that solve the execution of the specific project in the building, civil works or renovation in each case. .
Mirabella Condos in Toronto, image courtesy of ULMA
The manufacturing plant is equipped with the latest equipment such as laser technology and is structured in different work areas, where each of the six phases of ULMA's production process takes place, all manufactured according to European standards. It has an effective quality system, based on quality management and control techniques applied to production, which aims to guarantee a continuous level of quality in products and services.
Process control, measurement and continuous monitoring of each production phase have made "traceability" an example of total safety and quality. This is an area where ULMA brings some of its greatest value to its many customers.
"One of the greatest added values ​​in dealing with a formwork supplier is the traceability of the end product," observes Tisdall. "The result is often overlooked in our industry. For example, our 'Load Charts' which are used in all application designs, are developed not only using only engineering calculations, but also on strict management of raw material quality, manufacturing tolerances and of the process itself. Managing this entire process in-house allows ULMA to guarantee the delivery of a quality product to site.
160 Front West in Toronto, image courtesy of ULMA
One of ULMA's main objectives is sustainability and it is launching new internal initiatives focusing on sustainable forestry and environmental certifications of our products.
"All of our products are reusable, and we offer our customers product rental options, reusing them many times over their lifetime," says Tisdall. "ULMA believes in being part of the process of building healthier communities for people and the environment. We take pride in our sustainable products and practices, and how we can adapt to international sustainability and environmental standards.
One of the reasons for ULMA's success and market leadership is its ability to continually manufacture solutions for its diverse customer base. An example is a recently launched new digital platform, myULMA. It is a user-friendly, in-house designed construction management tool with an intuitive interface that allows customers to oversee, track and manage their project progress with just one click. The 24/7 portal provides a comprehensive overview of project status, on-site stock, invoices, and permission management tools. The platform is compatible with all devices and accessible anywhere in the world.
Mirabella Condos in Toronto, image courtesy of ULMA
"Providing our customers with real-time, on-site inventory on each of their projects, allowing them to control production and costs, is yet another way ULMA demonstrates its commitment to providing post-procurement services," says Tisdall. "myULMA is a powerful tool that keeps our partners informed and provides complete visibility into each rented equipment."
* * *
UrbanToronto's new data research service, UrbanToronto Pro, offers comprehensive information on construction projects in the Greater Toronto Area, from proposal through completion stages. Plus, our subscription newsletter, New Development Insider, drops in your mailbox daily to help you keep track of projects through the planning process.
| | |
| --- | --- |
| Related companies: | B+H Architects, BDP Quadrangle, Doka Canada Ltd./Ltee, Ferris + Associates Inc., Groundwater Environmental Management Services Inc. (GEMS), LiveRoof Ontario Inc., McIntosh Perry, PCL Construction, Peter McCann Architectural Models Inc., PMA Brethour Real Estate Group, Priestly Demolition Inc., RJC Engineers, Scott Shields Architects, Terraprobe Inc, Walters Group, Zeidler Architecture |