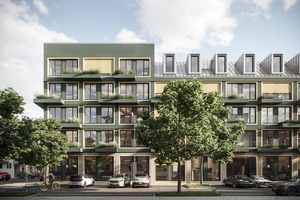 Urban wood construction: Colored facades in
Wood as a building material is deeply rooted in the cultural memory of many regions. A study by the Karlsruhe Institute of Technology (KIT) now shows how open up future timber construction is. Considering the cultural, technical and design aspects of timber construction, the study examines how timber construction can make a comeback in cities. His proposition is that more color is the key to greater acceptance. The reference project of the study is "Vinzent", a residential and office building with colorful wooden facades and plants in the district of Neuhausen in Munich.
The study, "Farbige Holzfassaden im urbanen Kontext" (Coloured wooden facades in urban contexts), was carried out by KIT's Institute for Building Design and Technology and commissioned and funded by the Munich-based project developer , Bauwerk. It identifies, among other things, three driving megatrends of the new wood construction boom: ecology and environment, mechanization and digitalization, new housing. For the first of them, wood stands out as a natural material with its favorable carbon and energy footprints, recyclability, low emissions and relatively good availability. In mechanization and digitization, wood construction is experiencing major advances such as the combination of drawing (CAD) and production (CNC) processes and new methods of surface finishing.
For the third megatrend, wood proves to be superior to other building materials in that it often enables the production of prefabricated modules that can be installed with corresponding efficiency in projects such as the densification of existing neighborhoods. "Precisely because timber construction is gaining more and more importance in today's social discourse, it must reinvent itself to assume and maintain a new place, especially in cities", explains Professor Ludwig Wappner of the Institute for Building Design and Technology from KIT. "We believe it should do so based on the design potential of authenticity of materials, state-of-the-art production techniques and architectural continuity."
The color pleases the eye and protects the wood
According to the architects and researchers of KIT, the return of wood in urban construction recalls the craftsmanship and aesthetic principles of the pre-concrete and pre-steel era. However, this does not mean a revival of idyllic villages with half-timbered houses. Instead, the requirements of today's town planning establish entirely new links with the structural principles of timber construction. The study, which is aimed at planners, builders, renovators and the interested public, focuses on wooden facades. The authors describe the transition from linear to planar structural elements and advocate for plywood surfaces and laminate ceilings, structural rather than chemical wood protection, green planting plans – and more color.
"Colour is the entry ticket for timber construction in urban architecture," says Falk Schneemann, architect at the IEB and one of the three authors of the study along with Wappner and Peter Hoffmann. "It inspires acceptance and facilitates the conceptual integration of timber structures into established urban neighborhoods." In addition, modern wood stains that are harmless to health protect the wood against harmful environmental influences such as exhaust gases, ultraviolet rays and fungi.
Reference project in Munich
While Wappner contributed to the study, he also worked with the allmannwappner architecture office on the design of the hybrid wooden building Vinzent in a 19th-century, post-war neighborhood in Munich's Neuhausen district. When completed in 2024, this flagship city center project developed by Bauwerk will house 56 apartments as well as offices. The appearance of the building is characterized by its colorful spruce facade as well as numerous design details and an adjoining, self-contained plant system.
"We manage our business according to ESG principles and are strengthening our emphasis on them. This is increasingly reflected in our projects," says Jürgen Schorn, Managing Partner at Bauwerk. "Vinzent is our first timber construction project. This focus on sustainability makes it one of the most sought after projects we've ever had. This shows that environmental awareness is a top priority for people and a real incentive to buy.
Original publication
Ludwig Wappner, Falk Schneemann, Peter Hoffmann: Farbige Holzfassaden im urbanen Kontext, Munich 2022. Download (PDF) at https://fek.ieb.kit.edu/941.php (in German).
Being "the research university of the Helmholtz Association", KIT creates and imparts knowledge for society and the environment. The aim is to make significant contributions to global challenges in the fields of energy, mobility and information. For this, around 9,800 employees cooperate in a wide range of disciplines in the natural sciences, engineering sciences, economics, humanities and social sciences. KIT prepares its 22,300 students for responsible tasks in society, industry and science by offering research-based study programs. KIT's innovation efforts bridge the gap between important scientific discoveries and their application for the benefit of society, economic prosperity and the preservation of our natural basis of life. KIT is one of Germany's universities of excellence.
---
Disclaimer: AAAS and EurekAlert! are not responsible for the accuracy of press releases posted on EurekAlert! by contributing institutions or for the use of any information through the EurekAlert system.